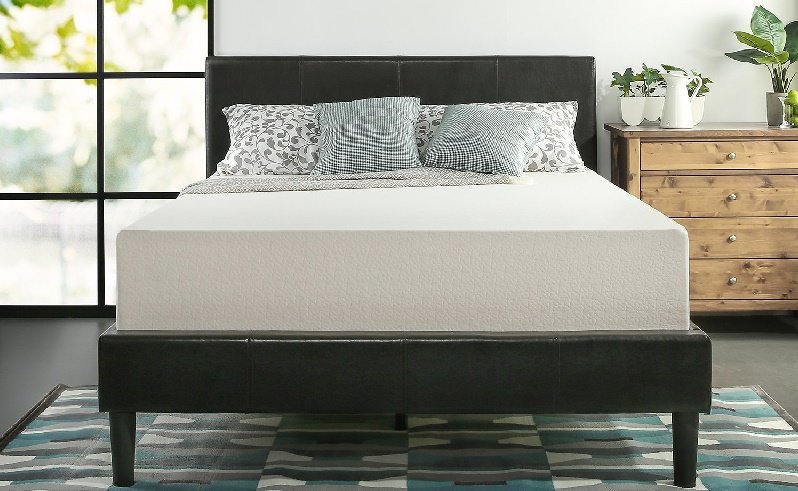 Zinus Memory Foam 12-Inch Green Tea Mattress Review
The older you get, the more you covet comfort and relaxation, especially while in bed. However, if you are currently sleeping on a saggy mattress that leaves you waking up in agony, it is time for an upgrade. The Zinus Memory Foam 12-Inch Green Tea Mattress could serve your soothing needs by allowing for adequate sleep.
The Zinus Memory Foam 12-Inch Green Tea Mattress is able to fit bed sizes ranging from full to California king. The memory foam is designed to adjust to the natural shape of a sleeper's body. Overall, this mattress is meant to provide long-lasting durability and stability.
View on Amazon
This comprehensive review will determine if the Zinus Memory Foam 12-Inch Green Tea Mattress is your cup of tea.
Top Features
Green Tea Mattress Foam- naturally conforms to user's body to provide maximum comfort and non-pressure support to ensure a good night sleep.
Natural Green Tea Extract- Infused with natural green tea extract to maintain freshness of the mattress
3 inches of Memory Foam, 2 inches of Comfort Foam, 3.5 inches of Airflow High-density Foam, 3.5 inches Airflow High-density Base Support Foam – 12 inches of various memory foams combine to provide supreme relaxation
The Airflow High-density Foam- Designed to provide long-term durability and stability
CertiPUR Approved- The mattress is U.S. certified for quality content, support and durability
Eco-Friendly – This mattress is free from the harmful gas, formaldehyde
Easy To Clean – Mattress cover is easy to remove and wash
10 Year Warranty – Ability to replace this mattress within 10 years free of charge
Reasonably Priced- Compared to similar memory foam mattresses, the price isn't outrageous
View on Amazon
Best Things About It
Infusing mattress with green tea extract- Who said green tea was only good for drinking? This memory foam mattress is infused with green tea extract to ensure freshness (i.e., prevents sweat and shed skin cells from absorbing into the mattress)
Provides quality comfort – The 12 inch layers of memory foam maximizes comfort as it adapts to your body type
Available for a variety of bed sizes- The 12-inch version of this memory foam mattress is available in full, queen, king and California king
Great edge support- If you ever sit on the edge of the bed, this mattress is strong enough to support your bodyweight.
Great weight support- This memory foam mattress can support up to 450lb
The 10 year warranty- Most mattresses break down and start sagging prior to 10 years. In case this mattress does within 10 years of purchasing it, the user can get a new one for free.
Is not made of harmful chemicals- Unlike some memory foam mattresses, this one is devoid of harmful chemicals such as formaldehyde, mercury, chlorofluorocarbons, prohibited phthalates, and PBDE flame retardants
View on Amazon
The Not So Great Parts
Waiting 24 to 48 hours before use- If you are desiring a mattress to be ready immediately after you receive it, this one isn't for you. It will take about 1 or 2 for the mattress to return to its original form.
Note: Most memory foam mattresses take about a day to return to original form before it can be used
May be a bit too soft- If you are a person who prefers a firm mattress, the Green Tea Mattress may be too soft for your sleeping pleasures.
Recommended For
Users with lower back issues- The 12-inch memory foam is perfect for individuals who battle with lower back issues
Users who sleep on their back and/or side- This mattress is well-suited to adjust to those who sleep on their back and/or side
A couple who weigh under 450 lbs – Two people who weigh under 450 lbs can sleep on this mattress together
Sleep a lot in their bed- This bed is durable enough to continuously withstand the weight of a person who take frequent naps (in addition to nighttime rest).
View on Amazon
Not Recommended For
Users who covet a very firm mattress- The softness of this mattress would be uncomfortable for users who prefer a firmer, denser mattress
Review Summary
The Zinus Memory Foam 12-Inch Green Tea Mattress is the memory foam mattresses most people dream of. It is comfortable, durable, and provides antibacterial and anti-fungal protection thanks to infused green tea extract. In addition, the mattress is reasonably priced compared to similar mattresses. If firmness is a must, this is not the mattress for you. For everyone else, the Zinus Memory Foam 12-Inch Green Tea Mattress is a wise investment.